Indoor & Home Golf Simulator Systems
Browse our lineup of professional and portable indoor golf simulators starting from under $13,500.
TruGolf Simulators are designed to offer cutting-edge features and functionality for golf professionals, enthusiasts, or business owners. So, if you're looking to spend more time playing the game, or you're interested in joining the growing business of off-course golf, we've designed each of our products to share and enhance the golf experience, for everyone. 
From easily assembled Portable Simulators to high-end custom installations, these systems are equipped with advanced Launch Monitor hardware. TruGolf Simulators allow you to optimize your practice, and play the most famous golf courses in the world any time, anywhere. Here, we always have Tee Times available. 
Tee-off from an ever-growing library of the world's best golf courses. 

Schedule a round or manage a golf simulator league. Play any time, anywhere. 

These systems double as golf training simulators, allowing you to track your progress with data-driven analysis tool 

Receive meaningful feedback on every shot. 

See the data and practice with purpose.
Professional Golf Simulators 
Whether you're looking for a budget-friendly introduction to golf simulation, or a luxury simulator package, TruGolf has an option for every lifestyle.
Professional
Golf Simulators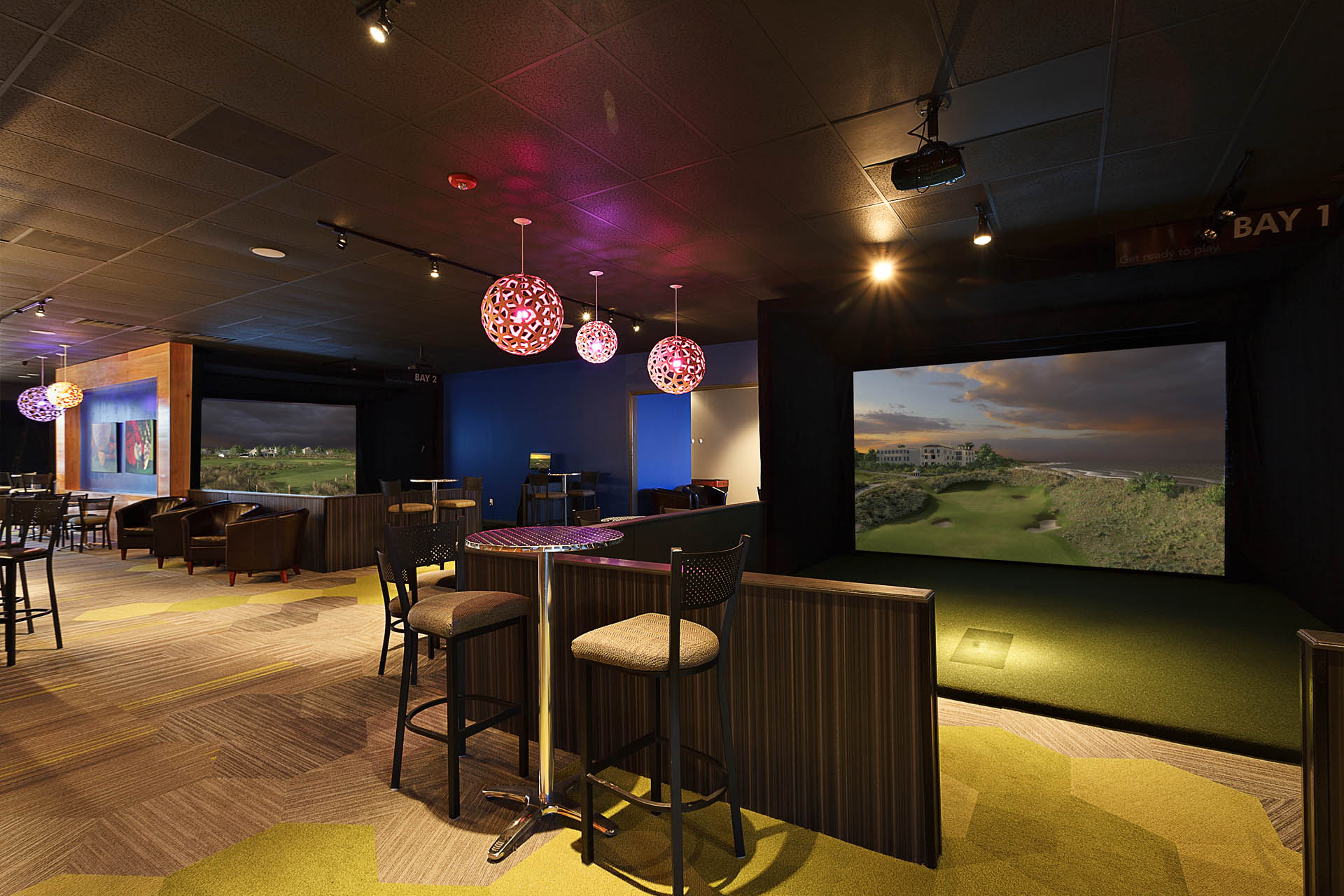 Signature | Premium
These industry-leading professional simulators are designed for lasting performance and aesthetic flexibility, whether used as a home golf simulator or as an indoor simulator at a Training Facility. Our largest and most impressive golf simulators surround you with stunning high-definition for the pinnacle of virtual reality. These systems can be custom configured to match nearly any space requirements.
Choose from (2) Trim Levels: Signature or Premium
Home
For anyone looking to improve their game and everyone looking for premium entertainment, our turnkey virtual golf simulators are equipped with everything you'll need. We offer a range of versatile, durable, and portable simulators without compromising accuracy. Play virtual golf on world-class courses and get live feed-back after every shot, no airfare, lessons, or tee-times required.
Business
Golf simulators are the backbone of the rapidly expanding indoor golf industry. Build your business around TruGolf's hardware, or increase your existing entertainment amenities. Portable golf simulators can be installed in almost every space with minimal effort and without tools. Hyper-realistic graphics, a huge library of courses, and immersive sound effects make golf simulation an exciting and easy option for enhancing your customers' experience.
Events
Because they require only minimal set-up, portable Golf simulators are excellent for events. Because of its intuitive and compact design, you can easily assemble a portable golf simulator just about anywhere. Golf simulators provide a fun, interactive, and highly social amenity for guests of all skill levels, from corporate events and conferences to golf tournaments and charity fundraisers. Golf simulators offer competitive, collaborative, and creative activities for any gathering. Whether hosting a large event or a private get-together, a golf simulator makes a memorable impression.
Vista Series
These systems will immerse you in realistic gameplay for a fraction of the cost of our competitors. Designed to be easily set up and taken down, these portable golf simulators make it possible to play the most famous courses in the world, anywhere at any time. The Vista Series offers technology you won't find with any competitor. The series features a revolutionary new tension system, resulting in an impact screen that is held firmly in place for a clear, crisp image.
Contact a Sales Representative for pricing
Looking for something Custom?
Work with our team to design something totally unique for your space. We will work with you or your contractor to create a custom golf simulator build out – complete with any level of finish you are looking for.
What is the best golf simulator for the money?
TruGolf indoor golf solutions can be designed for luxury-residential applications to high volume commercial usage – without compromising accuracy or quality. For 20 years we have been designing and installing golf simulators around the world – with unmatched commitment to quality at a fair price. You can work with our Sales Team to determine what's most important for your application – Portability, Durability, Luxury and everything in between.
TruGolf offers virtual golf products at nearly every price point.
Contact us
How much do golf simulators cost?
TruGolf's complete golf simulator packages begin at $9,000. Prices vary depending on Frame, Size, Trim + Finishes, Installation, and more. TruGolf offers custom pricing where users can purchase the Launch Monitor technology by itself. In addition, users can upgrade the golf simulator experience by enhancing the Sound System, the Projector, or adding multi-media capabilities. TruGolf offers golf simulation products at nearly every price point.
Custom Simulator
How do golf simulators work?
TruGolf Golf Simulators utilize high-speed camera technology to capture Ball and Club Data for each shot hit on an indoor golf simulator. The photometric launch monitor, combined TruGolf's golf simulation engine, recreates the unique physics of the game of golf. After each swing taken in a TruGolf Simulator, the software provides an in-depth analysis of all Club and Ball Data, in addition to the virtual reality gameplay. The proprietary software engine, E6 CONNECT, features LiDAR Scanned recreations of world-class golf courses, accurate within centimeters of the real-world counterparts.
Technology
E6 Connect